BAND BIO
ONE SHEET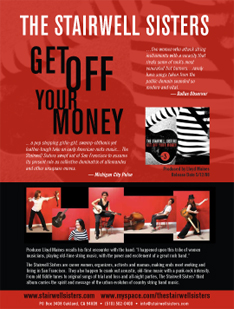 POSTER (12.75" x 17.25")
NEED MORE?
info@stairwellsisters.com
PUBLICIST
Kim Fowler
Two Dog Media
kimfowler10@gmail.com
THE STAIRWELL SISTERS
GET OFF YOUR MONEY
Produced By Lloyd Maines
Release Date - 5/12/08

Producer Lloyd Maines recalls hearing The Stairwell Sisters for the first time: "I happened upon this tribe of women musicians, playing old-time string music, with the power and excitement of a great rock band."

Tribe of women indeed. Evie Ladin explains what holds sway with the sisters, themes similarly found in one of their early influences, Hazel Dickens & Alice Gerrard: "not exactly the sweet and tender ladies, but the stand up for yourself and face the world kind of women."

Which is exactly the kind of women that make up The Stairwell Sisters. Evie, Stephanie Prausnitz. Lisa Berman, Martha Hawthorne, and Sue Sandlin are career women, organizers, activists and mamas; making ends meet working and living in San Francisco. They also happen to crank out acoustic, old-time music with a punk-rock intensity. Somehow, between raising children, working and releasing records, they've taken their band to some rather well-regarded places - appearing on "A Prairie Home Companion," festival stages from Lincoln Center (NYC) and Hardly Strictly Bluegrass (SF) to Celtic Connections (UK), and many points in between.

Their third release Get Off Your Money, produced by Maines and out May 12, covers substantial ground as well. There are fiddle tunes crafted decades ago from Alabama to Scotland and points unknown. There are old songs of trains, boats and possums. One song is translated from Swahili, an all-too familiar story learned from a street musician in Tanzania. There are new songs too - original songs of trial and work, loss and love, and all-night parties. The women run all of it through the "Sister Mill." Regardless from which era or continent the songs have traveled, The Stairwell Sisters make such heartfelt and skillfully played music that boundaries dissolve beneath the chugging force of old-time fiddle and banjo, the whomp of bass and guitar, the grit of the slide guitar, and the tight, closely interwoven harmonies.

Lloyd Maines has it right. The Stairwell Sisters are tribal; laying down that all-gal teardown wherever they go. Get Off Your Money carries the spirit and message of the urban evolution of country string band music.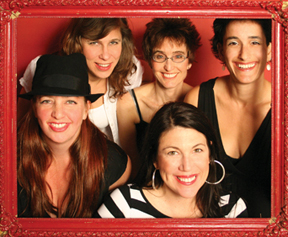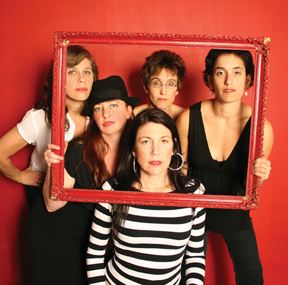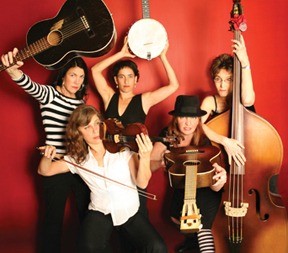 . . . . . . . . . . .

WHAT THEY'RE SAYING:

NASHVILLE PUBLIC RADIO
A mesmerizing project chock full of energy, excitement, poignancy and musical surprises. It's a boldly original album that looks both forwards and backwards simultaneously using old-time underpinnings to create a killer new sound.

SING OUT!
This third Stairwell Sisters album is their best yet. With Lloyd Maines on production the Sisters are freed to do what they do best: play the heck out of their material…mountain music with total commitment and almost unbridled energy, exuberance and abandon…the performances are tart and bracing…originals that nestle so comfortably you need to check the credits to make sure which are traditional and which are original - and that's meant as a high compliment.

MAVERICK (UK)
String band fare at its best.

FESTIVALPREVIEW.COM (ROCKYGRASS)
The Stairwell Sisters got people out of their seats!

BOB HARRIS, BBC RADIO
Fantastic!

BILLY ALTMAN, THEBLUEGRASSSPECIAL.COM
It's hard to say what is more striking: the Sisters' clear passion for old-time string band music, or the thoroughly modern exuberance of their performing style. It is, however, the originals that really underscore the band's distinctiveness. The Stairwell Sisters organically and emphatically connect their democratic music with their democratic values. Together with the implicit empowerment aspect of their being an all-female band, Get Off Your Money adds up to quite a statement.

POPMATTERS.COM
These women attach a rock-and-roll energy to an acoustic mountain sound...bandanas and whiskey are at home with Chuck Taylors and wine coolers...The seamless instrumentation along with each band member's musicianship help this album stand out from others of its genre...stories that coalmen from the 1800s can relate to as well as someone driving home in rush hour.

KIM RUEHL, ABOUT.COM
The Stairwell Sisters have a knack for writing old timey songs that sound like they were pulled out of the dirt of a century ago…strong and tight, as if they're playing one big, multi-layered instrument.

VINTAGE GUITAR MAGAZINE
They create a rustic wall of sound where the backing rhythms are as important as the principal melodic line. This group music approach makes every song they perform, whether it's an interpretation of a Roscoe Holcomb blues or one of their own original tunes, sound organic and ancestral. Want a tonic for modernity? The Stairwell Sisters have a cure for what ails you...

KCBL/BACKROADS BLUEGRASS
From the first song until it ended this project just leaps out at you and won't let you go. This is old time music on steroids. The more you play it the more you find new and different things to like. I played the entire CD and my request line was ringing off the hook.
.
SF BAY GUARDIAN, PICK OF THE WEEK
The Bay Area's own sorority of sweet harmony, steel strings, and step dancing, the Stairwell Sisters are busy these days - not that the triple-threat (singer-songwriter-instrumentalist) musicians of the quintet are strangers to fancy footwork. The labor of promoting their third album of original and traditional old-timey tunes, Get Off Your Money (Yodel-Ay-Hee, 2008), has every reason to pay off once traditional music fans and appreciators of great songwriting catch wind of the Sisters' sweetly heartbreaking ballad "Cinderella" or the twangy, eXhilarating, banjo-driven rendition of "Swing Low."